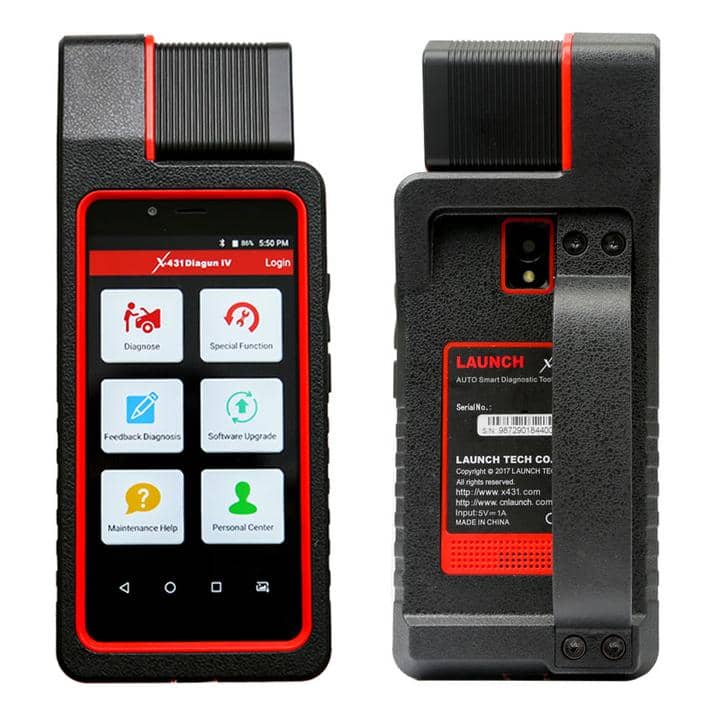 Rent a Launch X431 Diagun IV. The Diagun is one powerful automotive diagnostic tool that is capable of reading and clearing fault codes for many systems, such as the engine, ABS, SRS, transmission, brakes, emissions, fuel, lights, wipers, body, powertrain, and chassis.
This professional level OBD2 scanner has Bi-Directional Control which is capable of requesting information or commanding a module to perform specific tests and functions, such as energizing and de-energizing the A/C clutch, fuel pump, purge control solenoid, etc.
The tool is capable of a variety of other tasks, such as key fob programming, injector coding, oil reset service, immobilizer reset, steering angle calibration, electronic parking brake reset, battery register/maintenance, ABS bleeding, electronic throttle position reset/relearn, diesel particulate filter (DPF) regeneration, TPMS reset, and gear learning (capabilities vary based upon vehicle).
X431 Diagun IV covers Asian, European, American and China, up to 108 car brands, over 10000 car models.
User Guide: